As told by: Barry Stewart,
A little background first. Although I was trained as a pilot by the Canadian Air Force, I received my wings 10 December 1971 , thus you can guess I was not yet even born when the young men of 424 Squadron were flying their missions against the Axis. In fact the majority of my service time was spent in the "A" Class reserve, flying with 400 and 411 Reserve Squadrons based at Toronto . I continued my flying career with Air Canada , where I am currently employed as a captain. I am proud to say that both my parents served in the RCAF during WW2. Mom was a "WD" in Canada , employed in the massive BCATP, mainly at Claresholm , Alberta . Dad was a fighter pilot with 412 RCAF and 1435 RAF squadrons. He also did a stint as a tactical fighter instructor in Scotland between operational tours.
Now about the 424 connection. It has been a bit of a search to get information about my wife's Uncle Don. As I mentioned, he was KIA in March, 1945. Here is what I have on him.
1. Donald was reported missing in action on his first operational mission overseas, seven days after joining 424 Squadron in 1945 with only 2 months of wartime left. The Royal Canadian Air Force official casualty list "1296 - Overseas Previously Missing, On Active Service, Now Presumed Dead" was published in the Toronto Daily Star on Monday, December 3, 1945 . Don's name was included. The following is a quote from 2nd printing, 1996 of "They Shall Not Grow Old" by Les Allison and Harry Hayward, Leech Printing, Brandon , Manitoba :
"Standfield, Donald Arthur F/O (BA) J39910.
From Toronto , Ontario . Killed in Action March 7 1945 #424 Tiger
Squadron (Castigandos Castigamus) Lancaster aircraft #NG457.
Missing during a night operation against Dessau , Germany .
F/Os T.L. Foley, D.W. Robinson, T.S. Lawrence, Sgt. J Klem, F/S
S. Rosu were also killed. One Canadian Sgt. Seaman was either an
evader or was taken POW. Flying Officer Bomb Aimer Standfield
is buried in the war cemetery at Rheinberg , Germany ."
2. From "The RCAF Overseas, The Sixth Year:" (P137/138) Raid on Dessau , night of 7/8 March 1945. 500 bombers (100 were Canadian) took part. 18 were lost. Lists Seaman's initials as "K.F." and Robinson's initials as "D.W.B." It states Seaman reached Allied territory in early April. Don's squadron, 424 was a part of #6 Group and based at #63 (RCAF) Base Skipton-on-Swale, Yorkshire , from 6 Nov 1943 to 15 Oct 1945 (when the squadron was disbanded).
3. From: March 1945 Daily Operations, 6 Group Bomber Command www.rcaf.com/6group/March45/Mar7
March 7/8, 1945
81 Lancasters from 419, 424, 428, 431, 433 and 434 Squadrons were ordered on an attack at Dessau . The crews were over the target at between 14,000 and 16,500 feet, releasing 214,000 lbs of high explosives and 326,000 lbs of incendiaries. According to reports, bombing was accurate and severe damage was done.
F/O T. Foley RCAF and crew, flying Lancaster I NG-457 coded QB-C, failed to return from this operation. Crew: Sgt J. Klem RCAF, F/O D. Robinson RCAF, F/O D. Standfield RCAF, F/O T. Lawrence RCAF, F/Sgt S. [Sam] Rosu RCAF, Sgt K. Seaman RCAF (POW). All were killed except the rear gunner.
4. Don's younger brother Fred Standfield wrote on April 12, 2000 , "The lone survivor was the Rear-Gunner who was an American from California …. When he was on his way home he dropped in to the pilot's (Foley) parents in Montreal. They called Mother and Dad about this - they jumped on the train and went to Montreal to visit with him. [Seaman] said they were hit with a direct anti-aircraft shot under the starboard wing - went about 1000 feet higher. He couldn't contact anybody on the radio [intercom] - so he bailed out. The aircraft crashed (still loaded with bombs) in a field and he landed in another field breaking his ankle. He told the story that the civilians were running from one side (with murder in their eyes) and the German Forces came from the other direction and got to him first. He really had the feeling that the civilians would have killed him. To begin with the flight was badly off course and that put them up over Düsseldorf . By the way, [Seaman] was taken prisoner and released by the advancing Americans shortly after."
As an aside, Fred was too young to fight, but the eldest brother, "Rod" was an artillery officer and had a number of narrow escapes fighting his way through Italy , France and Germany .
5. There is also reference to Flying Officer Donald Standfield in the web pages of the Commonwealth War Graves Commission at: Casualty Details
6. I scanned a photo of Uncle Don into my computer last year. My father-in-law has the original print. Here it is.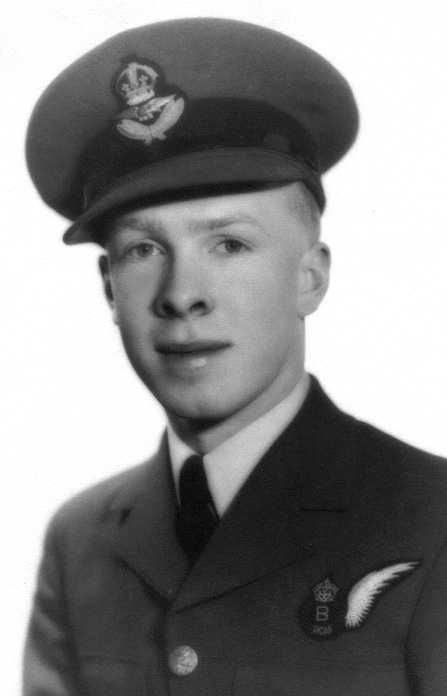 My wife and I visited Skipton-on-Swale about 5 years ago. You can still see the ruins of some of the buildings and two of the concrete runways. The perimeter road runs around the base but is in terrible repair. The property is in use for a mix of light industry and agriculture. We bought six bottles of beer from a micro brewery located just off the old perimeter road. Out from the main gate, if you turn left you very quickly arrive at "The Busby Stoop", a pub which has been at the intersection of the road to Thirsk for at least a couple of hundred years. We had lunch there, thinking that even if Don had only been on Squadron for 7 days, he probably had the chance to hoist a pint there.
There is a story about a chair at the pub, which had been the favourite chair of a customer many years before. The man was accused of murder, tried and hanged. From that time, many who had used the chair at the pub, died shortly after. The chair has been removed to a museum in Thirsk. It makes you wonder though, if some of the fellows in those bombers might have used that chair before going off on their missions.
Thank you for the chance to add my little bit of scrounged information about my wife's Uncle Don and his contribution to 424 and the war effort. He and those others who sacrificed everything they had to preserve our freedoms can never be thanked enough.
Yours truly,
Barry Stewart
bstewae303@rogers.com
Return to Web Site